S O M A T I C P E R F O R M E R
PROJECTS & WORKSHOPS
Wendell Beavers ~ Erika Berland



~

S

OMATIC

P

ERFORMER~

PROJECTS & WORKSHOPS
Wendell Beavers ~ Erika Berland
Overview Statement of Our Current Work

We are investigating the integration, translations, common ground among:
Mindfulness-awareness meditation and nature of mind teachings that we have received primarily through Tibetan Buddhist Lineages.
Somatic movement studies with Bonnie Bainbridge Cohen and the Body-Mind Centering ® approach she founded, and our own 40 yrs. of applications of this information and approach to artistic process and expression in both theater and dance.
The Viewpoints work of Mary Overlie and Wendell Beavers as it was grown and applied at New York University's Experimental Theater Wing 1978-2003, and in Naropa University's MFA Theater: Contemporary Performance Program from 2004-2020.
**
2024 ~ WHAT IS COMING ~ 2024
Many things are coming including 9th Annual SomaticPerformer Intensive.
We will be announcing our 2024 schedule here soon. If you are not on our mailing list and you would like to know about upcoming workshops please email us at somaticperformer@gmail.com
2023 ~ WHAT HAPPENED ~ 2023

~SOMATIC PERFORMER ATHENS ~
Athens, Greece
8-17 September 2023
Yes! This happened! A ferocious and gentle gathering of 22 extraordinary artist activists convened by Naropa MFA Alums Anna Tzakou and Angela Delichatsios. We are currently planning a return to Greece tentatively scheduled for September 2024. We worked long hours daily, generously hosted by Neli Poulopoulou and her dog Little Dear in her Athens studio. We concluded with a well attended public showing at the Isadora Duncan Dance Research Center.
********
SOMATIC PERFORMER 8TH ANNUAL INTENSIVE
with The Mary Overlie Legacy Project
An Intersection Inquiry
North Adams MA
June 3--11 2023
Yes! This happened! Twenty two artists joined Wendell, Erika, Sophia Treanor and Deborah Black for a two part workshop: Part I Somatic Training--Cultivating the Inner Viewpoints and Part II Facilitated Six-Viewpoints Research. We explored the direct correspondence of the experiential anatomy systems (BMC)(R) and Mary Overlie's Viewpoints SSTEMS. Housing was again provided by Mass College of Liberal Arts (MCLA) and we had an extraordinary public showing in the Eclipse Mill that was documented by photographer Alex Baker.
*********
THE ORGANS AND GLANDS AND THEIR ROLE IN MOVEMENT AND PSYCHOPHYSICAL TRANSFORMATION
NORTH ADAMS MA
July 31--August 5 2023
Yes! This happened! An extremely focused and joyful group of 14 professionals in the fields of dance, theater, performance art, all activists, came together to research this material as a ground for teaching and making critical, transformative art and pedagogy. The workshop was hosted in the SomaticPerformer/Movement Arts space in the Eclipse Mill, North Adams MA. Housing was arranged with Mass College of Liberal Arts (MCLA). We concluded with a public showing attended by Eclipse Mill residents and local artists.
*******
PARTICIPATORY MOVEMENT INSTALLATION: THE COMPOSITION OF EVERYDAY LIFE
Two 1hr Open Studio Events Sponsored by ArtWeek Berkshires
October 14 & 15 2023
With Wendell Beavers & Erika Berland
SomaticPerformer/Movement Arts Studio
Eclipse MIl. North Adams MA
Yes. This happened! These events were part of a regional open studio event in the Berkshires of Western Mass. We created two on-the-spot movement installations with visitors who came into our studio. We introduced a physical improvisation process--the Viewpoints--using awareness of space, time, movement, shape, story and emotion. It was a 100% participatory event using improvisational art making as community building. It worked! We met lovely local people and made something each day that honored each person and the space. Looking forward to doing this again.
****
*********
MONTREAL OH MONTREAL
Nov 3-6 2023
We spent three very full days re-visiting Montreal, having left abruptly when the pandemic hit closing Concordia University in the middle of our Spring 2020 Visiting Artist/Scholar residency. We re-visited Concordia spending a 3 hour morning with Gabriela Petrov and Leslie Baker's combined second year Viewpoints classes. It was inspiring to work with 22 students who seemed to be completely on fire with the unlimited possibilities they had discovered with Gabi and Leslie. We then spent a day with 20 artist activists assembled by Gabi and Carina Rose in our workshop MOVEMENT RESEARCH: A DEVELOPMENTAL APPROACH--Exploring the developmental actions of yield, push, reach, grasp an pull as sources of generating new movement vocabularies an psychophysical response. We then spent an afternoon with the extraordinary artist Francoise Sullivan, which was actually our primary reason for returning to Montreal. Francoise, just turning 100, and currently featured in a new show at the Musee des Beax-Arts was a member of Franziska Boas' Dance Company in New York in 1946-47 as was Erika's mother, Ellen Berland (Wimmer). It is a long and wonderful story, and one that is ongoing. For a clue you could look up the Automatists.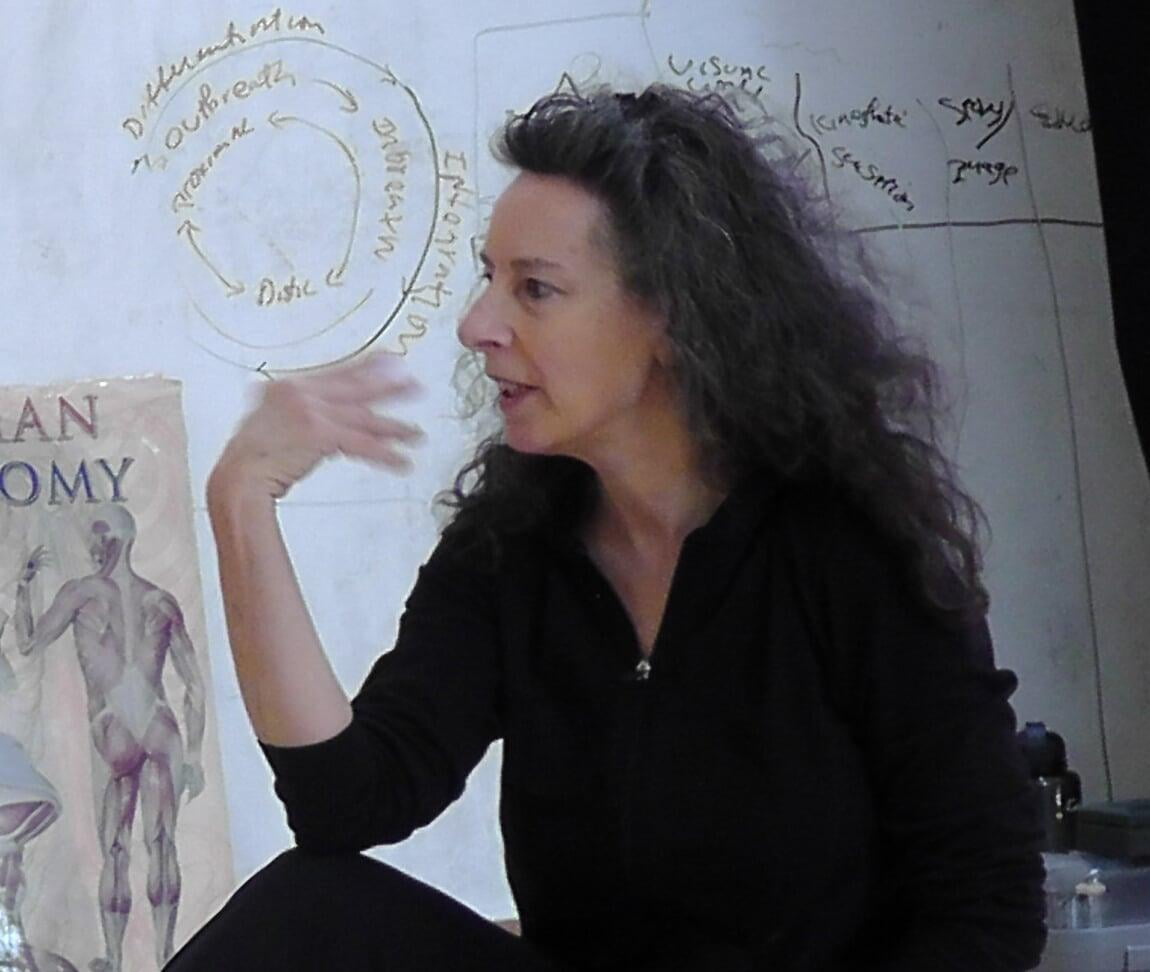 ******
ONGOING ONLINE CLASSES
Somatic Meditation Practice: An Online Forum
With
Erika Berland
Based on her book:
Sitting: The Physical Art of Meditation
***
UPCOMING SCHEDULES TBA
Cost: $120 for 10 sessions. $15 for drop-ins
Email somaticperformer@gmail.com for current scheduling & registration information
***
Guided Practice Sessions are one hour with additional ½ hour discussion forum offered following each session.
A gathering of a community of meditators focused on integrating deep experiential knowledge of the somatic body into mindfulness/awareness practice. These one hour sessions will include Erika's guided somatic instructions based on her book "Sitting: The Physical Art of Meditation," as well as the opportunity to practice together the heart of meditation as embodied presence.
You can pay for the series or drop in by session. The sessions will be recorded and the recordings will be available for the week so that you can use them to deepen your practice and touch back into the material. As an experienced Meditation Instructor, I am also happy to engage with you privately through email or zoom, if questions arise or individual guidance related to basic meditation practice is requested.
Familiarity with Erika's book is highly recommended since much of the material will be drawn from the book's information and exercises. Sitting: The Physical Art of Meditation can be purchased online from Amazon. A recording of an in-depth 7 week course based on the book taught by Erika in the Fall of 2020 is also available for purchase directly from Erika.
About the Book: SITTING is a handbook for deepening our experience of the ancient posture of sitting meditation. Drawing on research in somatic education and experiential anatomy, many guided exercises offer imagery we can use to release tension and stress, contemplations to increase body awareness, tips for making gravity work for us rather than against us, physical and energetic methods for relating with the systems in the body, and much more—including ways to bring new awareness into daily life.