May 13-18, 2018
at Naropa University, Boulder CO
6th Annual Somatic Training for the Performer Workshop
A 6 Day Intensive applying Experiential Anatomy to Developmental Technique(TM), Viewpoints and the Contemplative Context
2018 SPECIAL FOCUS: THE MIND OF THE BONES
Differentiating and integrating the axial and appendicular skeleton; seeking clarity of form in space, deep internal support for light, effortless precision and articulation; applying these qualities to the developmental vocabulary and Viewpoints Improviation practices
With

Wendell Beavers, Founder of Naropa University's MFA Theater; Contemporary Performance Program Founding Faculty of NYU's Experimental Theater Wing
and
Erika Berland, founding faculty of Naropa's MFA, Certified Practitioner of Body Mind Centering(R), somatic educator and meditation instructor in the Shambhala Buddhist lineage.
$675. (Register by April 1)
$375. (Alumni, Staff and Faculty of Naropa University)
Daily Schedule:

9:15-9:45 Guided Meditation
9:45-11:00 Developmental Technique(tm) Class
11:15-12:30 Experiential Anatomy; specific anatomy of the skeleton, accessing through visualization and movement, bone tracing, levering, compression/suspension, pnf re-patterning,
12:30 Lunch
1:45-3:00 Experiential Anatomy contd.
3:00 TEA
3:20-5:00 Viewpoints Pracitice
Like us on Facebook at https://www.facebook.com/beaversberlandworkshop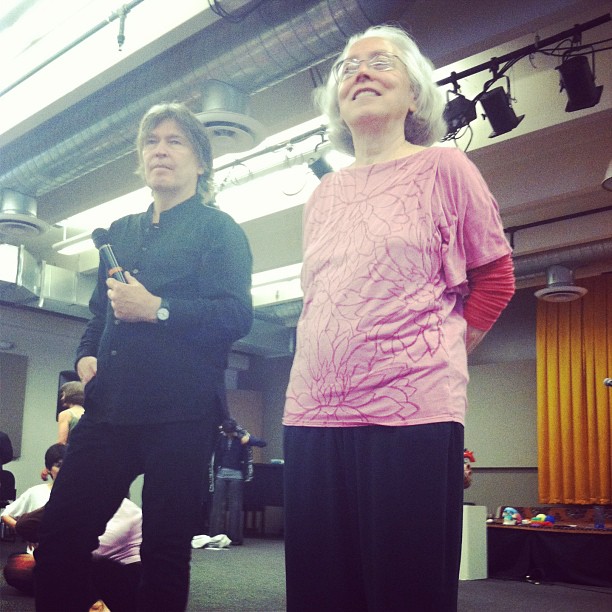 Wendell Beavers and Bonnie Bainbridge Cohen, BMCA Conference, Naropa University, June 2013